INTRODUCTION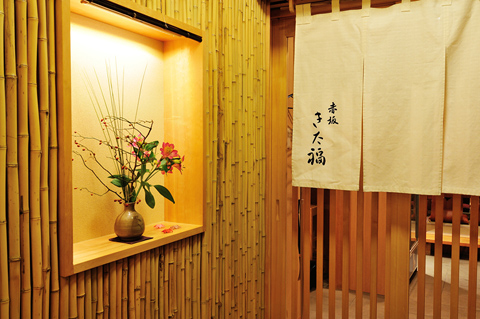 Akasaka Kitafuku is the peerless Red King Crab dining place, which is known to have one of a kind crab course menu in Tokyo. What makes Kita-Fuku so special is the style we offer. The extreme course of Crab with the kind of artistry that can only be provided by high skilled chefs who ensure the superlative taste and unforgettable dining experience.
The Crabs are directly out of the fish tank, just before cooked at the spot, right in front of you in a cozy traditional Japanese style private rooms which there are only 3 of them in total.
You will be in a complete calm atmosphere with your precious people.
You will witness the large size Red King Crab alive, turned into various types of dishes and savoriness. Enjoy the crab sashimi, shabu shabu, grilled, boiled, and the rare part of delicious crab meat only the experts can serve you.
The Red King Crabs we mainly serve are all sent over directly from Hokkaido. However, as an authentic Japanese restaurant, we have an assortment of seasonal dishes to represent the beautiful Japanese seasons. Soft and fresh flavorful bamboo shoot from Kyoto in Spring, tender cooked abalone in Summer, and the rich aroma and the taste of Matsutake mushroom we can't afford to miss in Autumn.
Please look forward to our wine and sake list for we have taken time to choose the best match to what you may feel delighted having it with.
Our 3 private rooms are good for party of 2 to 6,
although 2 rooms can be joined to one large room, therefore, up to party of 12 is also possible.